Discover and enjoy the flavors of Jura gastronomy! Local products and typical recipes await you in the restaurants between Bresse and Vignobles.
At the bottom of the page you'll find a list of restaurants and bakeries in the Jura, between Bresse and Vignobles.
Bresse Haute Seille is rich in flavors and boasts a large network of local producers. These supply the various restaurants and bakeries that favor short circuits and quality products.
The must-sees of Bresse Haute Seille
Numerous dishes allow you to discover the flavours of the Jura.
In Bresse Haute Seille, the star of our plates is Bresse chicken. Easy to cook, it offers a unique and intense taste for poultry lovers! In its simplest version, roasted and seasoned for a family meal, or cooked with refinement for the holidays. Chicken is very often on the menu of Jura restaurants.
Morel is a typical ingredient much used in traditional Jura recipes. In a yellow wine sauce, morels add even more character to meat and poultry dishes. 
AOP Comté and AOP Morbier cheeses are also must-haves in the Jura!
Comté is a raw-milk, pressed-cooked cheese that can be enjoyed on any occasion!
Morbier, which is recognized by its famous "black ray", also goes well with many dishes and beverages.  
Discover the different recipes using Comté cheese.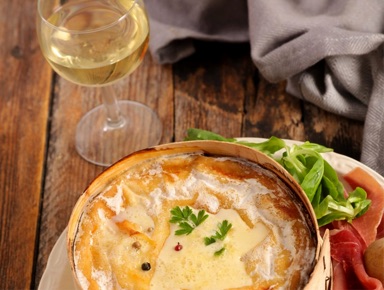 List of Restaurants