Profitez de vos vacances dans le Jura pour découvrir le village de Château-Chalon !
The house of the Haute Seille
In a historic residence in the town of Château-Chalon, set off on a FUN and INTERACTIVE discovery of the Haute Seille region: video projections, audio testimonies, exhibitions, for young and old alike!
Linger in the thematic areas, which not only deal with the people who made the history of the region, but also with its exceptional natural and wine-growing heritage.
3 levels of discovery :
The ground floor
À l'entrée du bâtiment, le personnel de la Maison de la Haute Seille vous accueillera et saura vous conseiller sur les environs. Vous avez à votre disposition un espace de documentation. Un coin boutique met également à l'honneur les produits locaux.
Vous avez accès à la terrasse et au jardin, depuis lesquels la vue sur le vignoble et l'entrée des reculées de la Haute Seille est exceptionnelle. Profitez-en pour goûter les quelques boissons jurassiennes (avec et sans alcool) proposées par la Maison de la Haute Seille.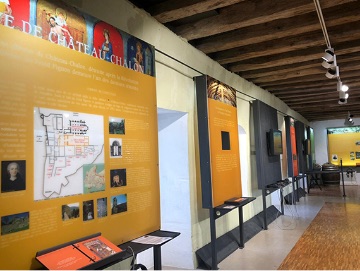 The floor
The history of Château-Chalon, and in particular of its abbey, is explained to visitors in the form of interactive panels.
Visitors will also discover some of the ancestral rituals that have been preserved, such as stonework, fayes, etc. The ritual of the piercing of the yellow wine is also presented.
As if to mark a pause, visitors then discover the audio testimonies of the inhabitants of the Coteaux de la Haute Seille, who recount their experience of the territory.
Large panels inform visitors about the geological composition of this territory, which is so special because of its diversity of landscapes: remote areas, plateaus, valleys, plains, etc. On the other hand, thanks to the presence of fossils that it contains. Finally, as a final discovery on the first floor, a temporary exhibition on the preserved nature of the ecopole located in Bresse will allow you to discover the whole territory.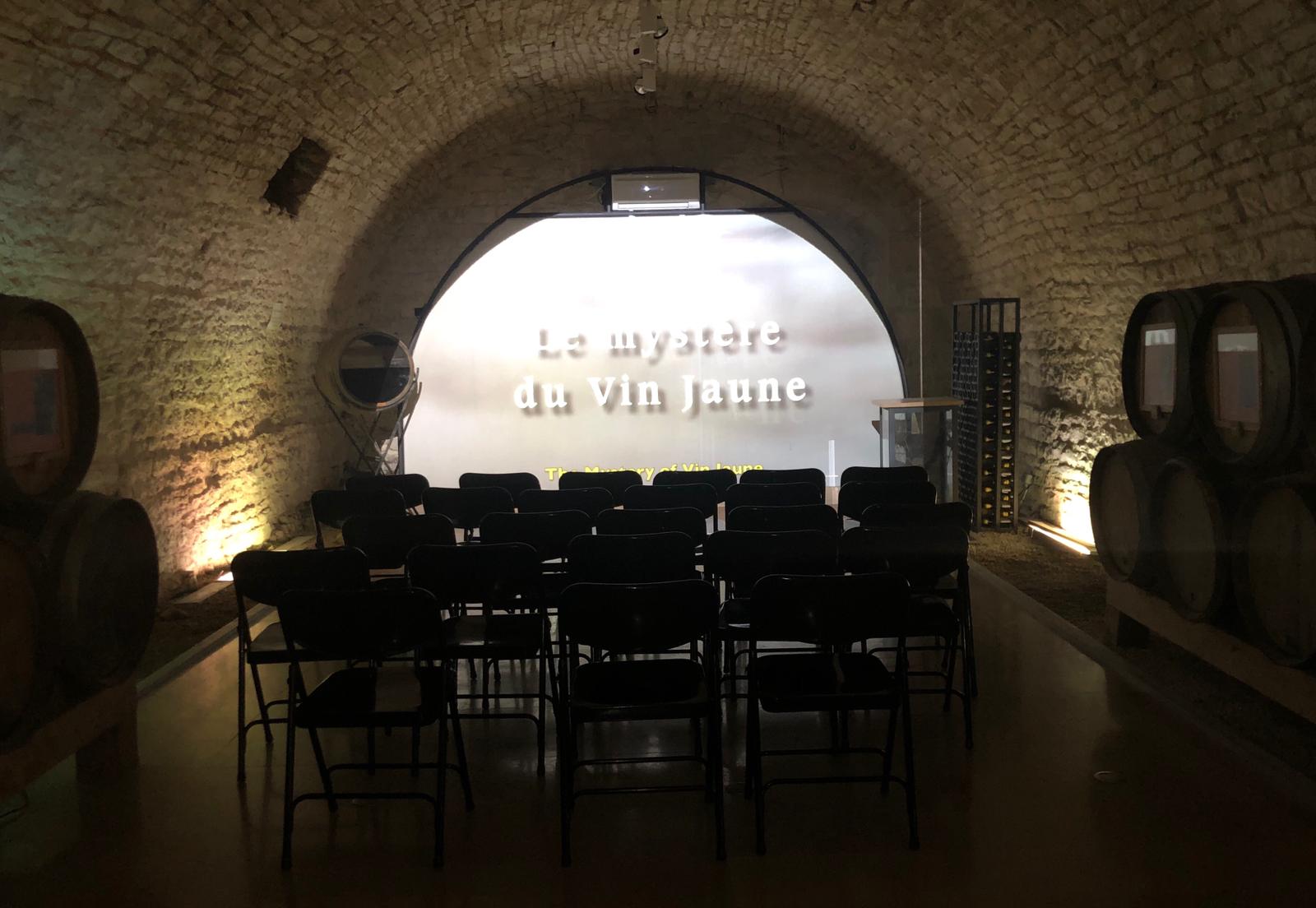 The cellar
Discover an exceptional wine!
In the superb vaulted cellar of the House, the film "Le Mystère du Vin Jaune" (The Mystery of Yellow Wine) is projected on a large screen. It won the "Landscape and Environment" prize at the 2008 International Oenovideo Festival. After this journey, you can taste the "yellow gold" of the Jura...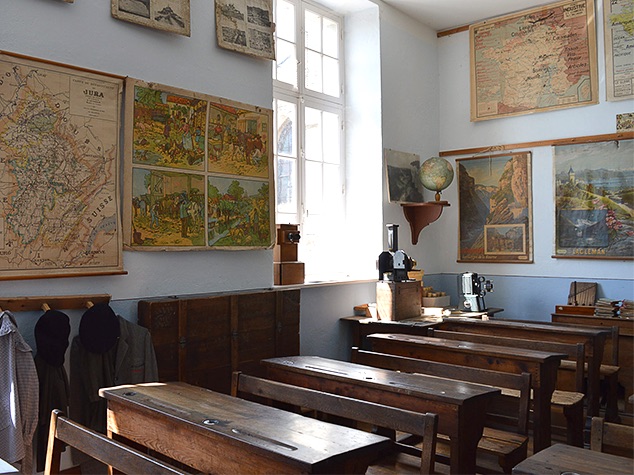 The school of the past
With "L'École d'autrefois" (The School of Yesteryear), discover the atmosphere, the furniture and the teaching materials of the 1930s. Discover or rediscover the pleasure of writing with a pen, school notebooks, school books and teacher's documents of the time.
Yellow wine
On élabore le Vin jaune, appelé autrefois « vin de garde », à partir du seul cépage Savagnin. Il peut porter les appellations Arbois, L'Etoile, Côtes du Jura, mais le plus célèbre reste l'AOC Château-Chalon, berceau et grand cru de ce vin.
Les vignerons cultivent les 50 hectares de l'AOC Château-Chalon sur les communes de Château-Chalon, Ménétru-le-Vignoble, Domblans et Nevy-sur-Seille.
Que ce soit par son mode d'élaboration, par sa puissance aromatique ou par son contenant, cet « or jaune » ne laisse pas indifférent.
Durant son vieillissement, effectué en fûts de chêne pendant 6 ans et 3 mois minimum, une partie du vin s'évapore. Ce processus est aussi appelé : la « part des anges ». Un voile de levures se forme en surface, préservant le vin de l'oxydation et lui donnant ce fameux « goût de jaune ».
Il est ensuite mis en bouteille dans un contenant spécial : le clavelin. Cette bouteille de 62 cl est l'écrin idéal pour conserver les arômes de noix qui font la singularité de ce vin d'excellence !
Conservatory vine: a way to preserve the wine heritage...
Lors de votre visite à Château-Chalon, profitez-en pour vous arrêter à la vigne conservatoire.
Dans ce musée à ciel ouvert retrouvez 47 des 50 cépages jurassiens de la période pré-phylloxera ! Ce dernier, qui a sévit à la fin du 20ème siècle dans le Jura, a ravagé une grande partie du vignoble jurassien. De 20 000 hectares il passe à seulement 2 000 hectares !
À la suite de cette crise, les viticulteurs jurassiens qui avaient jusque-là cultivé jusqu'à 50 cépages, ont décidé de reconstruire un vignoble de qualité. Ce nouveau vignoble aurait autour de 5 cépages, qui sont aujourd'hui les seuls autorisés.
Ainsi, cette vigne conservatoire, est un véritable héritage culturel. Elle est témoigne de la longue histoire du vignoble de Château-Chalon et plus largement, du Jura.
Belvédères de Château-Chalon
Château-Chalon possède de nombreux points de vue sur le territoire de Bresse Haute Seille. D'un côté, le vignoble, et d'un autre l'entrée des reculées. Entre les deux, on peut admirer, la plaine de la Bresse jurassienne à perte de vue.
Les vues panoramiques de ce village vigneron sont à couper le souffle ! Elles offrent à tous ceux qui visitent Château-Chalon, une expérience unique, propre à notre territoire.
Escape Game
In the old school of Château-Chalon.
Can you solve the riddles to get out of the school?
Good luck!